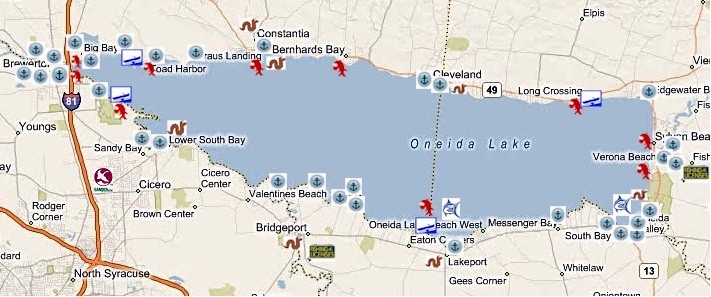 Map not to be used as a boating navigational aid

=Marinas

=Launches

=Charters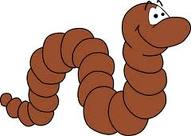 =Bait

=Fishing Licenses

=Fishing Access(click on symbols on MAP for info)
Weather Alert in Effect - Oneida Lake area near SouthBay/Canastota! Click
HERE!
Featured Marina - Oneida Lake Marina a full service marina in South Bay (Ron Renslow, proprietor)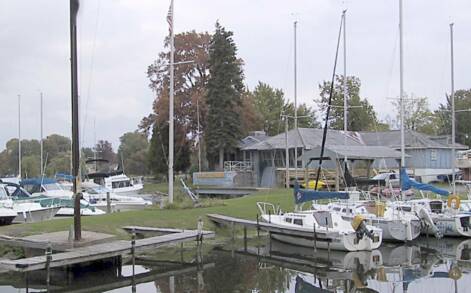 We want to know about your boat! Go to our new FaceBook page and add a photo of your boat with the name and how you decided. or email a pic MyBoatName@oneidalake.com
add your marina by emailing oneidala@oneidalake.com
ONEIDA LAKE MARINAS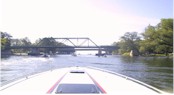 Oneida Lake has many marinas that offer services that range from boat slips to gas, bait, boating supplies and groceries. Some marinas even sell new and used boats. Check out Oneida Lake Marinas by clicking on the symbols, or just see the name by holding the cursor over a symbol. We also included an Oneida Lake Marinas list at the bottom of this page.
Oneida Lake is a fishing paradise. Bass fishing in Oneida Lake has such a good reputation that it has become a frequent stop of the Pro Bass tour. There are walleyes, northern pike, perch, bullhead, and the lake is part of the sturgeon repopulation project (if you catch these you must release!) There are multiple public fishing access points around Oneida Lake (noted on map). We hope you find the time to enjoy fishing on the lake!
Oneida Lake Region Fishing Report

BUY NYS FISHING LICENSES ONLINE